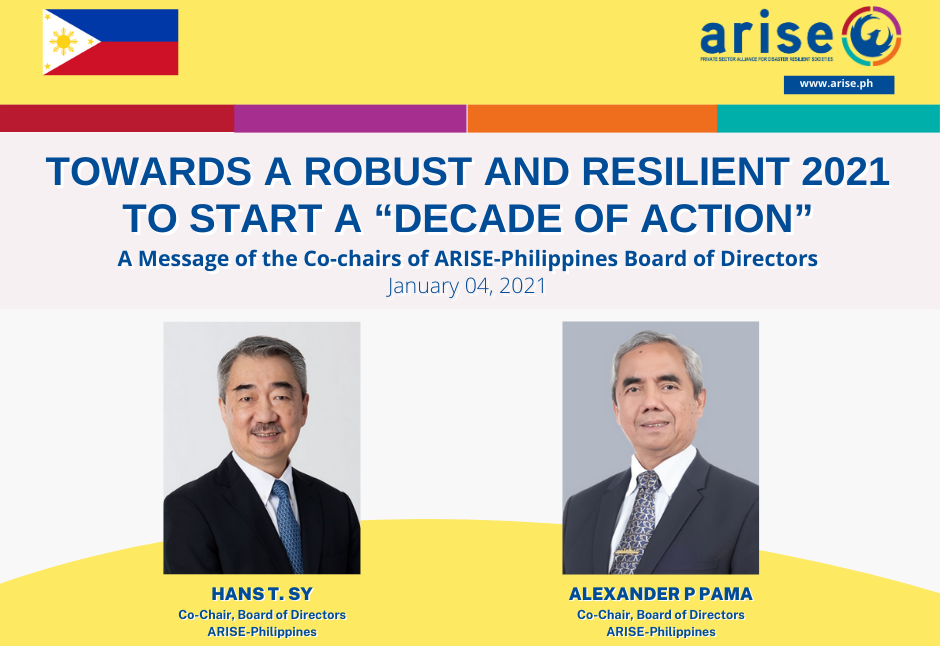 The year 2020 had been a challenging year for us. The devastating effects of the COVID-19 pandemic and the disasters brought about by a number of natural hazards has pushed to the extreme our capacity to bear its consequences even as we struggled to continually mitigate its debilitating socio-economic effects. Yet, we bore the brunt with resilience and dignity. As the year ended we prevailed. As we reflect on the experiences and lessons learned from the COVID-19 pandemic and the disasters we experienced this past year, one thing was clear, no matter how small or big, simple or complex and insignificant or existential the challenges we experienced, we did and will always rise above these difficulties. What we went through in 2020 has shown what we can do and have done for each other to lighten the burden. We all did our share!
In retrospect, while we, the members of ARISE-Philippines have individually and collectively undertaken activities to address last year's challenges, we continued and sustained the conduct of our programs and activities in support to our commitments to achieve the goals of the Sendai Framework for Disaster Risk Reduction (SFDRR). For this, we would like to congratulate each and every one of you for your focused, selfless, and dedicated efforts to achieve our common goals. We are proud to say that in spite of the unprecedented difficulties and challenges that 2020 brought upon us, ARISE-Philippines has lived up to its commitment to attain the goal of having a disaster-resilient Philippines.
Moving forward, 2021 will be the start of the UNDRR "Decade of Action" as we reinvigorate our endeavors to help achieve the targets and goals of the SFDRR by 2030.   We, therefore, need to re-energize our efforts in the coming years to ramp up the implementation of programs and activities. To this end, we shall redouble our efforts to pursue our current activities and expedite the completion and implementation of plans, programs, and activities.
Our priority shall be the activities and courses of actions to be undertaken in the period of 2021 -2023, where we shall continue to undertake and level-up the activities that we have started in our Three Work Themes and initiate new programs and activities under the ambit of the ARISE Global's Four Priority Areas. Concurrently during this period, we shall identify and plan for the implementation of other imperatives to be undertaken in the remaining years of the decade in order for us to achieve the fulfillment of the goals and objectives of the Sendai Framework for Disaster Risk Reduction and in particular, for our country's disaster resilience and sustainable development.
We, therefore, look forward with guarded optimism that 2021 shall bring more opportunities for all of us even as we remain hopeful that the worst is over and the best of times is ahead of us. On behalf of the members of the ARISE Philippines Board of Directors, we invite everyone to join us in our quest to further enhance our respective and collective efforts in more inspired and determined ways.
We wish you all a resilient, safe, and productive year ahead of us!
Happy New Year and be well at all times!