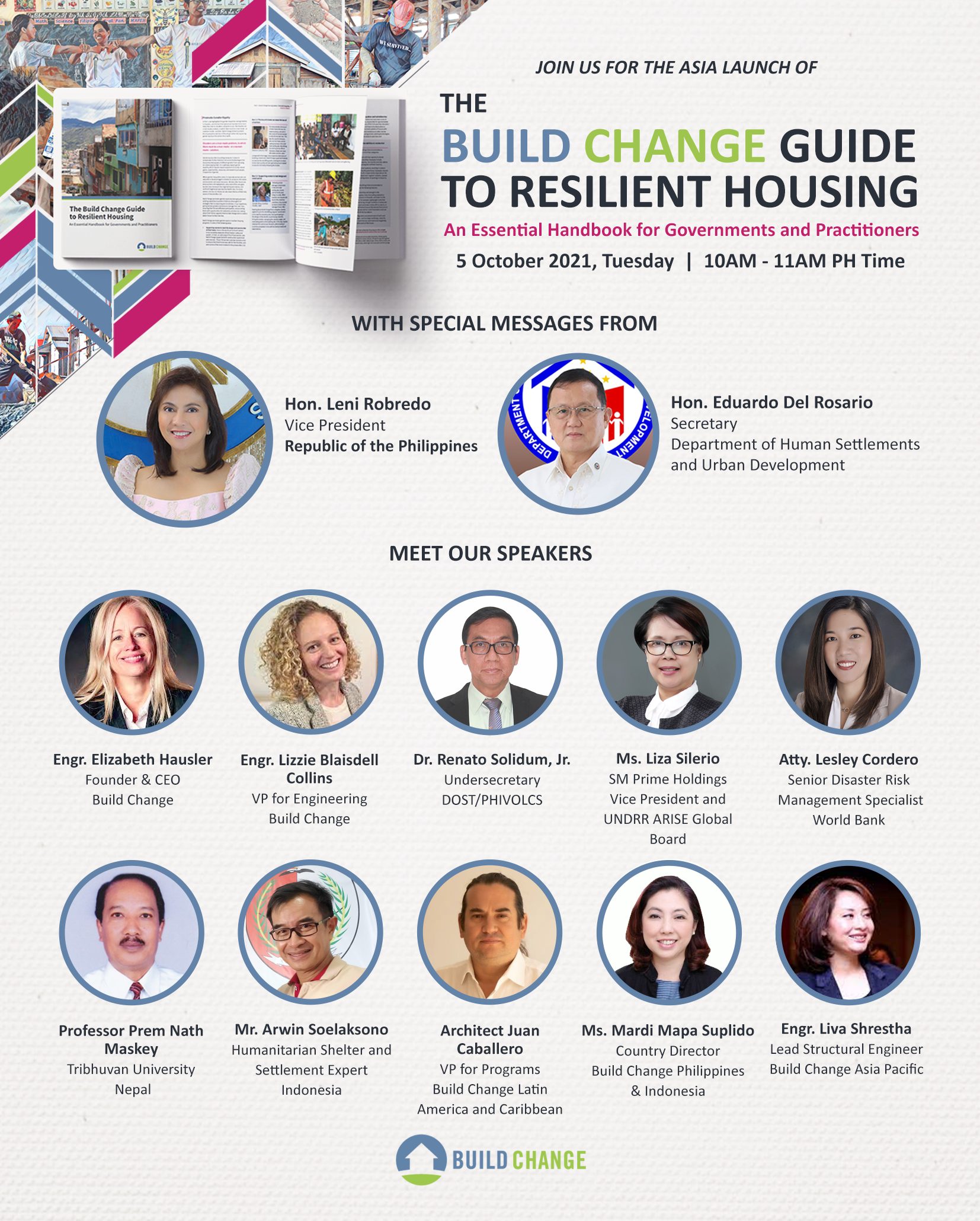 As our contribution to the country's National Shelter Month celebration in October, Build Change is excited to announce the launch of The Build Change Guide to Resilient Housing: An Essential Handbook for Governments and Practitioners, to be held on the 5th of October 2021, Tuesday, from 10:00 – 11:00 am (Philippine time).
This guide captures key lessons learned from Build Change's nearly 20 years of global experience in resilient housing and provides a roadmap for governments, funders and practitioners around the world with the tools needed to carry out successful resilient housing programs at scale.
During this launch event, we will be bringing together experts from across the globe to share their insights and reflections on current industry actions on strengthening housing systems to reduce risks caused by disasters and ensure safer housing for all. These include:
Hon. Leni Robredo, Vice President of the Philippines
Hon. Eduardo Del Rosario, DHSUD Secretary
Engr. Elizabeth Hausler, Build Change Founder and CEO
Engr. Lizzie Blaisdell Collins, Build Change VP for Engineering
Dr. Renato Solidum, Jr. Undersecretary, DOST / PHIVOLCS
Atty. Lesley Cordero, Senior Disaster Risk Management Specialist, World Bank
Professor Prem Nath Maskey Tribhuvan University, Nepal
SM Vice President Lisa Silerio, UNDRR ARISE Global Board
Mr. Arwin Soelaksono, Humanitarian Shelter and Settlement Expert for Indonesia
Architect Juan Caballero, Build Change VP for Programs, Latin America and Caribbean
Engr. Liva Shrestha, Build Change Lead Structural Engineer for Asia Pacific
To join, please register at https://forms.gle/kdhp3k6kVUH3g8BeA
This ongoing pandemic and the many disasters our people continue to face underscore the urgency and continuing need for resilient housing, and remind us that this is the time for action. Safer housing as a front-line strategy for preventing the spread of Covid means safer health for all. Most people don't need new homes, they need better, more resilient homes. Together let us build a disaster-resilient world.