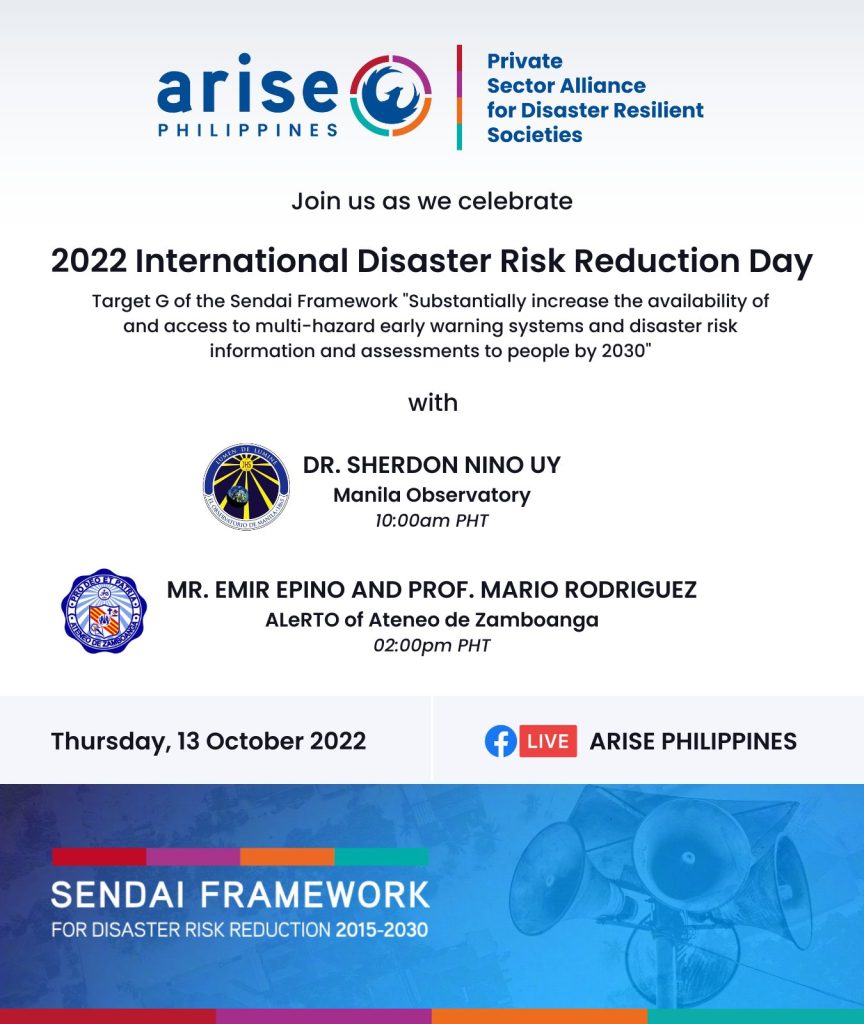 International Disaster Risk Reduction Day Celebration Theme:
Target G of the Sendai Framework – "Substantially increase the availability of and access to multi-hazard early warning systems and disaster risk information and assessments to people by 2030
Video Podcast Featuring Manila Observatory Technology on High-Definition Clean Energy, Climate and Weather Forecasts and ALeRTO of Ateneo de Zamboanga University
Background
Following the theme for this year's IDRR Day celebration, ARISE-Philippines would like to kick-off a podcast production by highlighting one of the good practices in DRR launched and maintained by the private sector. In this episode, the content will feature Manila Observatory Program and Initiatives on multi-hazard early warning devices and ALeRTO, a web application maintained by Ateneo de Zamboanga University.
Manila Observatory (MO) launched an automated weather forecast system since 2021 to support clean energy forecasting (namely for solar and wind energy) for the entire Philippines. A 5-day forecast at 5-km spatial resolution are initialized every 12hours and the forecast can be viewed on their website. They also have the extreme weather bulletin (EWB) which provide the public with information on tropical cyclones, extreme heat and rainfall and the potential risk for vulnerable areas.
AdZU ALeRTO is a project that aims to develop an early warning system which would provide near real-time status of the rain and water levels of 10 River basins (pilot sites) through SMS and Websites, giving local authorities ample time for decision-making and preventing adverse effects of flooding. The web app is currently being utilized by ten (10) LGUs of Zamboanga.
Objectives
To know the works of Manila Observatory and Ateneo de Zamboanga University and how they benefit the public
To showcase the availability of early warning device in the Philippines
To highlight the advantages of having the early warning device in DRR
To explore the role of the private sector in multi-hazard warning system and disaster
Target Participants/Audience
• Network members
• The general public