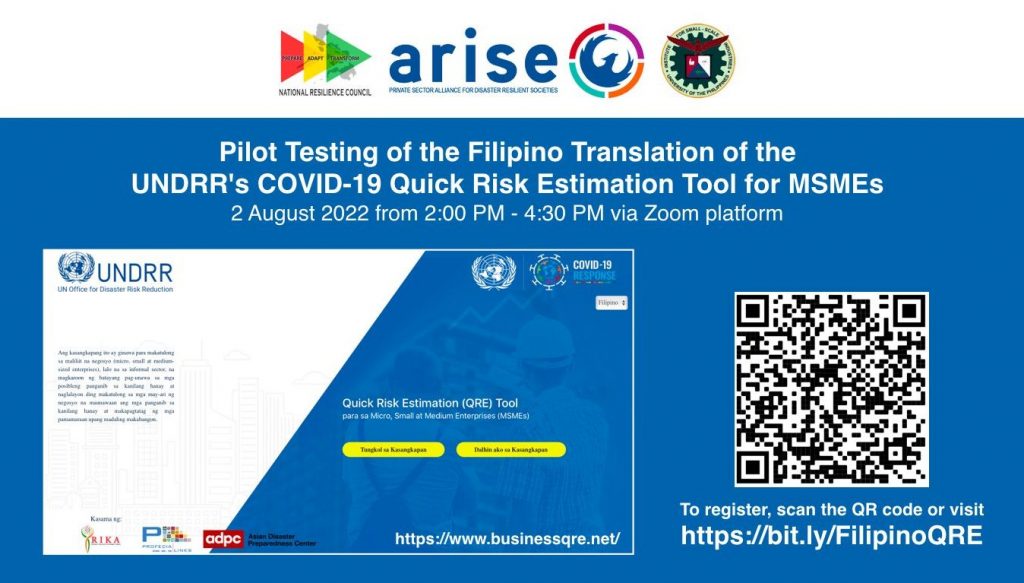 Attention all ARISE-Philippines MSME members!
Join us in the second run of the Pilot Testing of the United Nations Office for Disaster Risk Reduction (UNDRR)'s 𝗤𝘂𝗶𝗰𝗸 𝗥𝗶𝘀𝗸 𝗘𝘀𝘁𝗶𝗺𝗮𝘁𝗶𝗼𝗻 𝗧𝗼𝗼𝗹 (𝗙𝗶𝗹𝗶𝗽𝗶𝗻𝗼 𝗧𝗿𝗮𝗻𝘀𝗹𝗮𝘁𝗶𝗼𝗻) 𝗳𝗼𝗿 COVID-19 on August 2 (Tuesday), 2:00 – 4:30 pm, via Zoom.
The QRE Tool aims to help MSMEs, including those in the informal sector, to better understand their exposure and vulnerability to disaster risks, especially in the context of the COVID-19 pandemic. It aims to provide a general estimation of individual business risk based on potential impact and likelihood.
Slots are limited so register now at https://bit.ly/FilipinoQRE
For more information, email secretariat@arise.ph.
Try out the tool at www.businessqre.net.