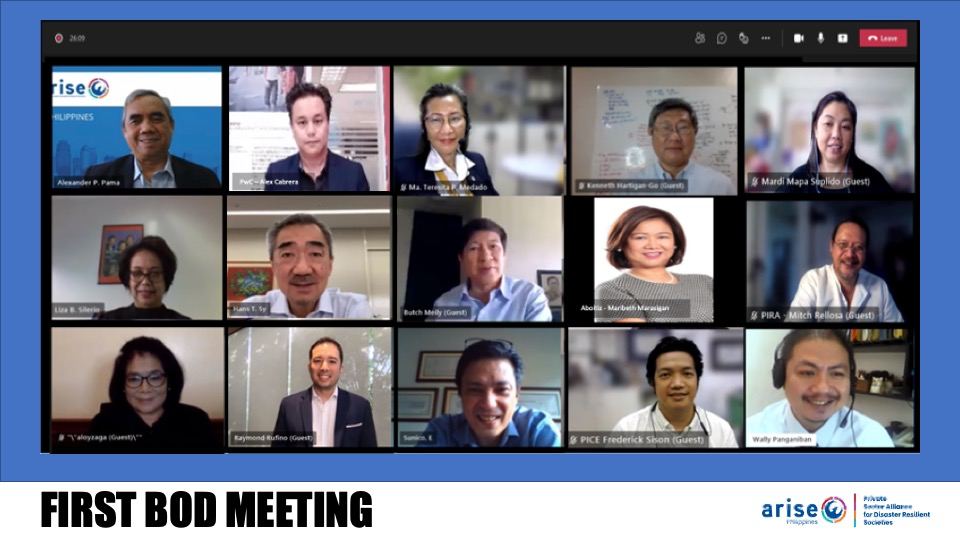 RE-ENERGIZING THE NETWORK
Members of the BOD together with the Work Theme and Priority Area Leads and the ARISE-Philippines secretariat, met online to plan the activities of the network for 2021 following the theme "RE-ENERGIZING THE NETWORK".
ARISE-Philippines, the local network of the global Private Sector Alliance For Disaster Resilient Societies organized by the United Nations Office for Disaster Risk Reduction (UNDRR), held its first Board of Directors (BOD) meeting last June 4, 2021 following its theme for the year, Re-energizing the Network".
Co-Chair Hans T. Sy, SM Prime's Chairman of the Executive Committee, in his welcome remarks, urged the members to draw inspiration from the network's accomplishments last year to continue pushing for, with even greater resolve, the attainment of ARISE-Philippines' Mission and Vision on disaster risk reduction and resilience. He explained that the meeting is an opportunity for the members of the BOD to renew their respective commitments to work with unity and thereby re-energize the network into greater engagement and participation.
The meeting was conducted to update the board of the network's current status in terms of its membership, share accomplishments from last year, present current activities of the secretariat and discuss proposed strategic and operational directions for 2021.
The major milestones reported include the election of Ms. Liza Silerio, VP for the Corporate Compliance Group of SM Prime, to the board of ARISE Global; the approval and adoption of the Terms of Reference (TOR); and the election of the first board of directors.
Following the update on organizational matters, the proposed way forward was explained where the network will take on a two-pronged approach — transforming while performing, in achieving its targets. This year, the network will work on solidifying its internal processes to grow the organization while also actively pursuing the plans and programs under its committees (organized under three (3) work themes and four (4) priority areas in keeping with its mandate) in order to live up to its commitments. Consequently, the board agreed to have these shared with the rest of the members in the upcoming Annual General Membership Meeting on June 18.
Among the major programs identified during the meeting was the Building Resilience Index (BRI) initiative, a web-based hazard mapping and resilience assessment framework that evaluates location specific, climate-related risks for real estate projects.
For more information about ARISE-Philippines and how to become a member, please reach out to the secretariat via email at secretariat@arise.ph