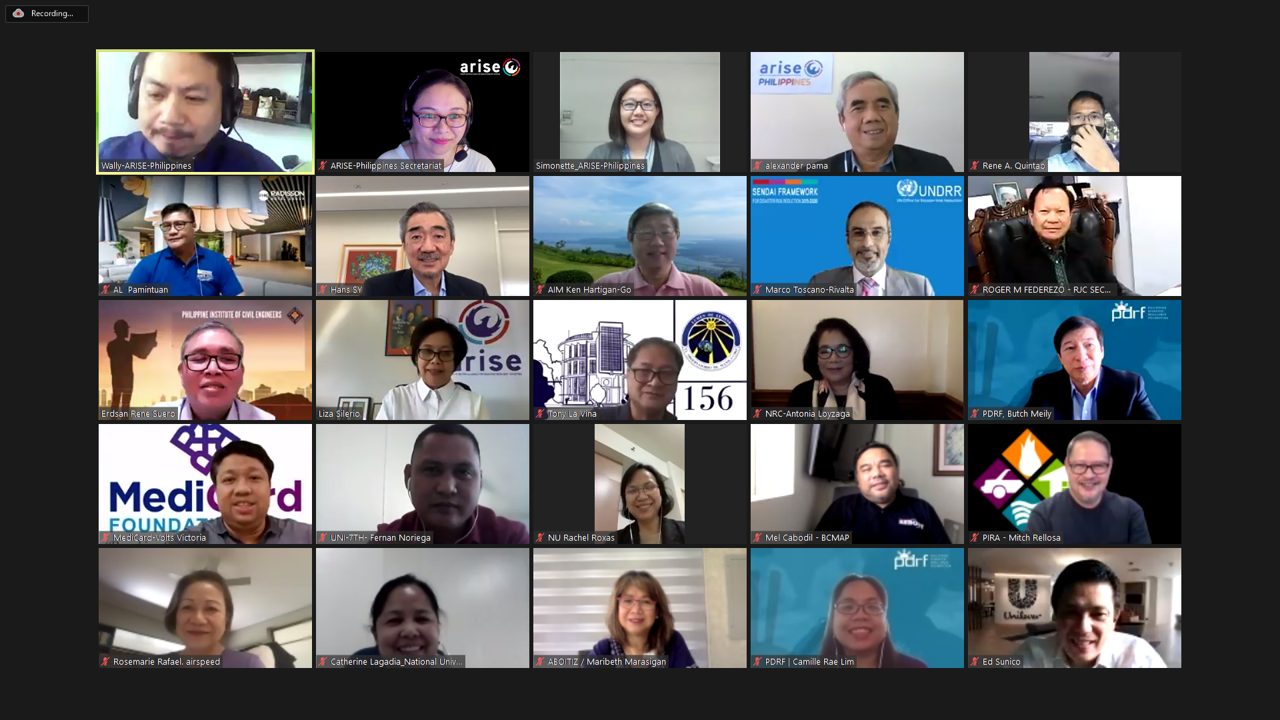 The Private Sector Alliance for Disaster Resilient Societies ARISE-Philippines recently held its annual general membership meeting via Zoom, and discussed its accomplishments to date, updates on the status of its current initiatives and immediate goals moving forward.
The organization's accomplishments within the past year include the election of SM's Vice President for Corporate Compliance Engr. Liza Silerio to the global board of Arise; the election of Arise-Philippines Board of Directors; the adoption of Arise-Philippines' Terms of Reference; and Arise-Philippines' contributions to the Covid-19 response and relief activities amounting to over P2 billion in cash and in kind.
The meeting also highlighted ARISE-Philippines' priority action areas: Disaster Risk Management Strategies, Education and Training; Urban Risk Reduction and Resilience under Work Themes; Small and Medium Businesses, Investors and Investments; and Insurance and Reinsurance and Resilient Infrastructure under Priority Areas. These are, in turn, integral components of the Arise-Philippines Impact Framework.
"At the end of the day, everything we do in ARISE-Philippines is all about building the resilience of our communities to achieve the targets of the Sendai Framework," said ARISE-Philippines co-chairman, retired Vice Admiral Alexander Pama.
In his keynote message, Arise-Philippines Co-Chairman and SM Prime Executive Committee Chairman Hans Sy called on the members of the network to continue working together toward a more disaster-resilient Philippines. "Let us advance our platform in broadening consciousness and involvement leading to effective DRR [disaster risk reduction] action. Let us move as one to the path of stable, sustainable, healthy future for our country through disaster risk reduction and resilience."
ARISE-Philippines is a network of more than 150 companies and private sector institutions, with voluntary commitments to the implementation of initiatives in support of the 2015 Sendai Framework, which aims to achieve the substantial reduction of disaster risk and losses in lives, livelihoods and health and in the economic, physical, social, cultural and environmental assets of persons, businesses, communities and countries.