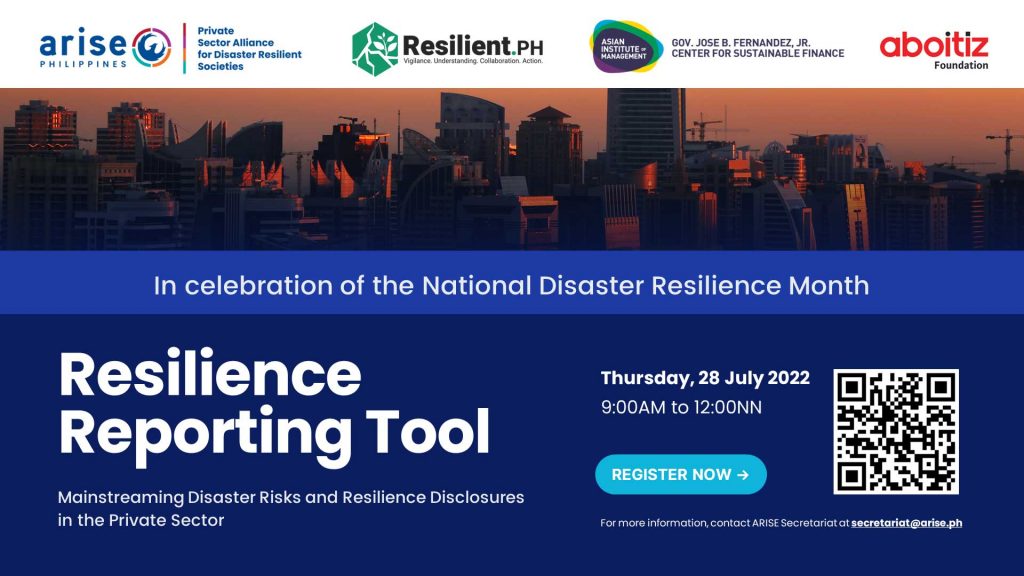 In celebration of the National Disaster Resilience Month, ARISE-Philippines, through our Priority Area Lead for Investors and Investments – Aboitiz Foundation headed by their President and COO, Ms. Maribeth Marasigan, and in partnership with Resilient.Ph and Asian Institute of Management, will be launching the Resilience Reporting Tool through a form of online webinar-workshop on July 28, 2022, from 9:00am to 12:00pm via Zoom.
The Resilience Reporting webinar is a discussion on mainstreaming organizations' disclosures of their disaster risk reduction strategies, contributions to the Sendai Framework, and how they can commit to integrating disaster risk reduction and resilience into their business model and practices, leading to risk and resilient-informed investments and resilient organizations. For additional information, you may refer to the attached concept note.
The webinar is intended for participants who are new to sustainability reporting as well as those who want to advance to resilience reporting. It would be an engaging experience for both groups of participants since the objective is learning based on the sharing of experiences in the field of reporting.
Furthermore, the key objectives of the upcoming webinar are:
Train the beginner participants on the mechanics of preparing a sustainability report;
Discuss the foundation of the Resilience Reporting Prototype and its potential to mainstream disaster risk resilience;
Gather feedback and questions with regard to the prototype;
Form coalitions with organizations committed to the Sendai Framework in order to improve it.
Due to the workshop technicalities, we can only accommodate the first 100 registrants for this Zoom meeting.