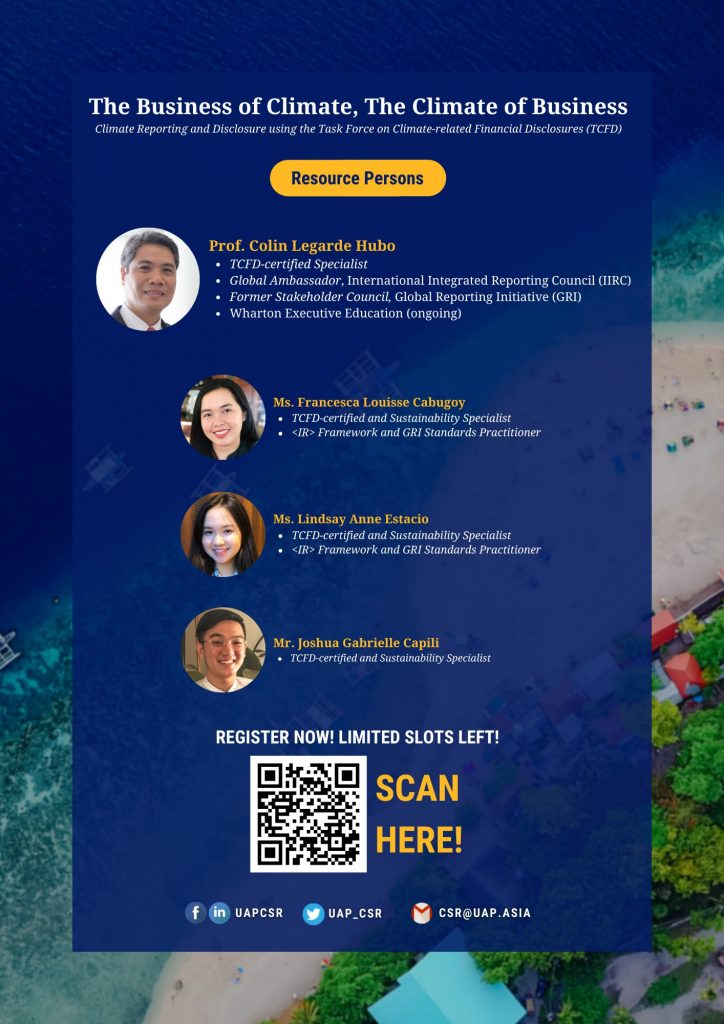 The UA&P Center for Social Responsibility (CSR) would like to invite you to the Webinar on The Business of Climate, The Climate of Business: Climate Reporting and Disclosure using the Task Force on Climate-related Financial Disclosures (TCFD).
Nowadays, it is evident how the impacts of climate change are likely to get worse in the long run. With this, it is increasingly becoming a norm to integrate climate-related strategies into business planning and reporting on climate-related disclosures as shown in governmental policies, investors' requirements, and monitoring of developmental and voluntary organizations.
This webinar will discuss the
1) Business Case for Corporate Climate Reporting and Disclosure and
2) Disclosing and Reporting Material Climate Topics using the TCFD Guidelines: Learnings and Insights from Best Practices.
REGISTER NOW! LIMITED SLOTS LEFT!
UA&P-CSR is the leading Philippine organization that has the record and credibility to deliver sustainability-related strategies.
*This webinar is exclusively for Private and Publicly-listed Companies only.
For inquiries, please contact: csr@uap.asia