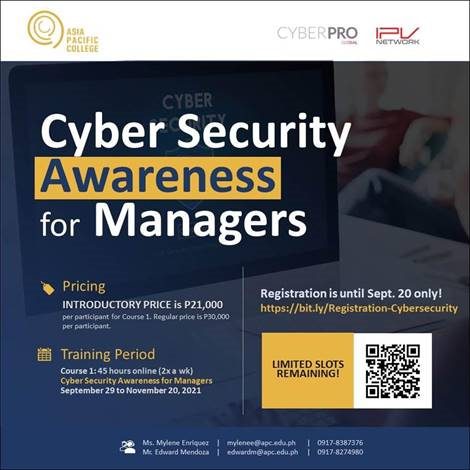 As we face exponential transition towards digital transformation, managers need to be
 prepared and ready to face the dangers of cyber-crimes that threaten every company existing in digital space or dependent on digital resources.
The pandemic has definitely accelerated the digital transformation of organizations. It is reported that around 86% of the population spend as much as 9 hours on the internet per day. This rapid growth has led to a significant increase of cyber-attacks and threats. Hackers are becoming more creative in finding new ways to penetrate systems and gather personal data.
To address these cyber security challenges, Asia Pacific College in partnership with Cyberpo and IPV Network, created a cyber security professional track for managers to help organizations like yours upskill and certify employees and security teams.
The APC Cyberpro Cyber Security Professional Track is composed of 3 courses which consist of video lessons and simulations using case studies from Cyberpro's cyber labs.
Course 1: Cyber Security Awareness for Managers (45 hours online)                                                                  Understand the cyber security field and mitigations in the global and Philippine context.                                                     September 29 to November 20, 2021
Course 2: Cyber Risk for Managers (45 hours online)
Formulate policies, make decisions, and report on risk compliance.                                                                                            November 26 to March 15, 2022
Course 3: Social Engineering (45 hours online)                                                                                                            Explore the tools and techniques used in the beginning of mitigation. Most attacks will leverage psychological principles and begins with compromising a user, especially those working from home.                                                  March 21 to June 28, 2022
Registration is open for Course 1: Cyber Security Awareness for Managers (45 hours online).
INTRODUCTORY PRICE is P21,000** per participant until September 20 only! Classes start on September 29, 2021.
To know more about the professional track, please see attached primer or visit the following links:
APC Facebook: https://www.facebook.com/asiapacificcollege.edu/posts/4331519420227196
APC Website: https://apc.edu.ph/programs/professional-tracks/cyberpro-cybersecurity/
Let us fight cyber-attacks and threats together!
*Source: Bangko Sentral ng Pilipinas' Financial Inclusions in the Philippines Dashboard, 2020
**Regular training fee per participant is P30,000.