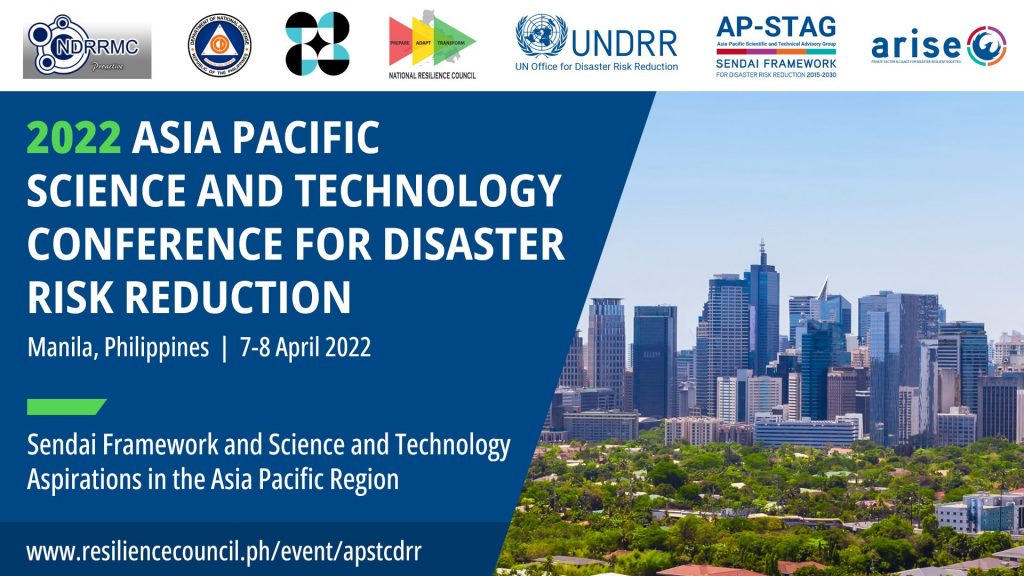 Join the 2022 Asia Pacific Science and Technology Conference for Disaster Risk Reduction on 7-8 April 2022, 9:00 AM – 3:00 PM (PHT), via Zoom. This conference is organized by the National Disaster Risk Reduction and Management Council (NDRRMC), Office of Civil Defense (OCD), Department of Science and Technology (DOST), National Resilience Council (NRC), UNDRR Regional Office for Asia and the Pacific (UNDRR-ROAP), UNDRR Asia Pacific Science and Technology Advisory Group (AP-STAG), and ARISE-Philippines.
Experts, decision makers, policy makers, and industry leaders from the Asia Pacific region will share experiences and showcase accomplishments on the use of science and technology to address compound, cascading, and systemic risks at global, regional, national, and local levels.
With increasing urbanization, climate change, and other anthropogenic pressures, many urban areas are becoming hotspots of disasters. Adaptive governance for resilience is becoming a "new normal" and the key challenge is how we can apply "science-based adaptive governance" as opposed to "ad-hoc adaptive governance". This two-day conference will provide great opportunities to further advance the application of science and technology in disaster risk reduction at global, regional, national, and local levels.
For more information and to register to participate virtually, visit www.resiliencecouncil.ph/event/apstcdrr.