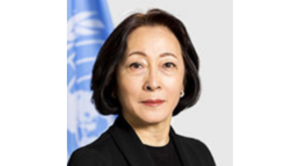 It is hard to overemphasize how important Target (e) is to the implementation of the Sendai Framework and the overall effort to achieve the goals of the 2030 Agenda for Sustainable Development. Simply stated, we need a substantial increase in the number of national and local disaster risk reduction strategies by the end of this year. I feel the glass is half-full with 93 member States having developed national strategies to date.
We have been campaigning relentlessly on the issue of strengthening disaster risk governance over the last six weeks culminating in the launch of the Human Cost of Disasters 2000-2019 report at a well-attended online press conference on the eve of International Day for Disaster Risk Reduction (IDDRR) on October 13.
It was heartening to see the coverage which the report generated as a result. It landed prominently on several of the world's largest news websites, including the BBC, CNN, Al Jazeera, and ZDF, with potential to be read by many millions of people around the world.
One way to ensure political commitment to developing and refining national strategies for disaster risk reduction is to secure public awareness and understanding of disaster risk. Good journalism which delves into the drivers of disaster risk is important; particularly in the age of COVID-19 when we are seeing ever more clearly the systemic nature of disaster risk and its cascading effects.
To summarize, our report laid bare the fact that this century so far has seen a great rise in the number of reported disasters from 4,212 (1980-1999) to 7,348 over the last twenty years. Much of this surge is accounted for by a steep rise in climate-related disasters from 3,656 to 6,681. Floods have more than doubled. There were over 2,000 powerful storms. And in a drier, warmer and more crowded world we are seeing a sharp rise in drought, wildfires and heatwaves.
On IDDRR, we flooded our social media channels with messages from myself, the UN Secretary-General, the WHO Director-General and 17 other original videos with strong advocacy messaging on disaster risk governance. There was a wealth of other material in the form of social media cards, reaching a potential audience of two million people online over a six-week period. Here is a link to my opinion piece.
I was also able to speak to hundreds of policymakers and other DRR influencers across the world through my participation along with some great speakers in a rolling series of webinars hosted by our regional offices in Bangkok, Nairobi, Cairo, Brussels and Panama.
Another highlight for me was the opportunity to join Prof. Petteri Taalas, WMO Secretary-General at a webinar to launch the 2020 Climate Services Report which UNDRR data made a strong contribution to. The report focused on the lack of multi-hazard early warning systems, notably in Africa and small island developing states. #DRRday was another opportunity to encourage enhanced international support to repair this widespread deficiency in disaster risk governance in low- and middle-income countries. And of course, this is Target (g) the 7th of the seven Sendai Framework targets.
 RESPONSE, RECOVERY AND PREVENTION
All National Adaptation Plans developed under the Paris Agreement on climate change list disaster risk reduction as a top priority. Similarly, national strategies for disaster risk reduction list climate change as a key concern for disaster risk management now and in the future.
Coherence between climate change adaptation and disaster risk reduction is a defining issue for disaster risk governance in the 21st century. Adaptation to climate change is central to disaster risk management at national and local level. No country on earth is immune to the rise in climate-related disasters. There is no vaccine against the climate emergency and self-isolation is not possible.
These were clear points of agreement in an online conversation I had on IDDRR with the head of UNFCCC, Patricia Espinosa, The world we want: transforming from crisis to opportunity.
We signed a Memorandum of Understanding to promote, amongst other things, coherence between disaster risk reduction and climate change adaptation in both National Adaptation Plans and national strategies for disaster risk reduction.
Our two organizations will work closely together with a range of least developed countries and small island developing states to ensure coherence and alignment in these two areas.
On 15 October, UNDRR, together with ILO, UN Women and UN-OHRLLS hosted the virtual 'Disaster Risk Informed and Resilient Covid-19 Recovery', the only side event to be held as part of the 75th General Assembly's Second Committee programme. The stimulating panel discussion and ensuing interventions from Member States were unanimously supportive of the Sendai Framework's instruction to 'build back better' as the world seeks to recover better from Covid-19.
 LEARNING AND GUIDANCE
On 14 October UNDRR started a six-week virtual training course, the third in a series of Training of Trainers (ToT), on Sendai Framework Monitoring and Disaster Loss Accounting. UNDRR has organised this training annually since the launch of the Sendai Framework Monitor in 2018, and this year the 2020 ToT was adapted to the realities of the COVID-19 pandemic and is being delivered as an online training course with 95 participants joining from around the world.
The aim is to continue building a pool of experts on Sendai Framework monitoring and disaster loss accounting by training organizational partners and selected experts from different regions who in turn, will support the UNDRR Regional Offices in training representatives of Member States and other stakeholders.
The UNDRR Bonn Office is leading this effort with the support of UNDRR colleagues across the organization.
 PARTNERING AND SHARING
The scale of economic losses over the last twenty years is reason enough why UNDRR pays so much attention to engaging the private sector in the work of disaster risk reduction. These economic losses are conservatively reported as being in the range of US$3 trillion, a figure which pales by comparison with the estimation that the COVID-19 pandemic could cost US$21 trillion.
I was pleased to have the opportunity to speak at the CEO Symposium organized by the newly created United Arab Emirates' chapter of ARISE (Private Sector Alliance for Disaster Resilient Societies), and the first in the region, which is going from strength to strength.
The CEO Symposium discussed how to regionalize the global priorities established for ARISE at the Annual General Meeting in July, including integrating DRR into financial sector decision making; building the resilience of SMEs; resilient infrastructure; and the role of insurance in disaster risk reduction and resilience.
The CEO Symposium was a milestone in the Arab region's journey towards a resilient, prosperous future where fewer lives are lost to disasters, and where capital assets and investments are risk-informed, and infrastructure is resilient to natural and man-made hazards.
 ADVOCACY
I am writing this in anticipation of World Tsunami Awareness Day, November 5. It is a relatively recent addition to the international calendar, but its importance was further underlined by our Human Cost of Disasters report which highlighted that earthquakes and tsunamis, while relatively rare in terms of occurrence, are the most deadly of all sudden onset disasters.
We will be marking the day with a World Tsunami Museum Conference digital event, a high-level panel discussing Target (e) progress in relation to tsunami events, and a range of other events organized in cooperation with the Intergovernmental Oceanographic Commission of UNESCO and the Government of Japan.
I come from a country which has a long history of such events so this is a day that has much personal meaning for me. I encourage those of you living in countries with vulnerable coastlines to support our awareness raising efforts and to engage with us online where we will be using the hashtags #TsunamiDay and #ItsAllAboutGovernance.
* * *
#PreventionSavesLives
I hope that you will find this update useful and informative.
If you would like more information about UNDRR's many activities, please do visit www.undrr.org and please — stay safe and well.
Mami Mizutori
UN Secretary-General's Special Representative for Disaster Risk Reduction
Source: https://mailchi.mp/af25bccfffb1/an-update-from-mami-mizutori-un-secretary-generals-special-representative-for-disaster-risk-reduction?e=8b9080bcaf