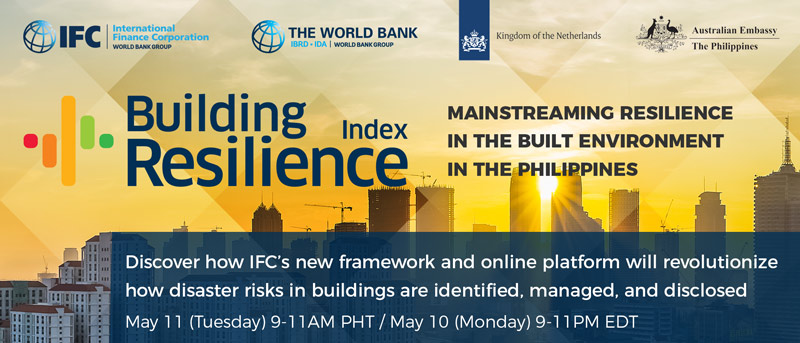 The safety, habitability, and financial performance of cities and the buildings within them are being gravely impacted by the increasing frequency and severity of climate-related events. Rapidly urbanizing areas in developing countries, such as the Philippines, are often the most vulnerable.
The Building Resilience Index, an innovation of IFC and supported by the World Bank, the Government of the Netherlands, and the Australian Government, is a web-based hazard mapping and resilience assessment framework that evaluates location-specific, climate-related risks for a real estate project or portfolio, and the resilience measures that have been implemented. BRI facilitates the identification, management, and disclosure of these disaster risks in buildings.
As a hotspot for disasters resulting from natural hazards, with significant hazard levels for floods, typhoons, landslides, tsunamis, earthquakes, and volcanoes, the Philippines was selected as the pilot country for BRI. The webinar brings together various stakeholders in the country's real estate sector, including developers, financial institutions, insurers, technical experts, and policymakers, to share their insights on building resilience and how BRI can potentially revolutionize the country's real estate sector.
The event is supported by ARISE UNDRR Private Sector Alliance for Disaster Resilient Societies, BPI, SM Supermalls, NEO Group, Resilience Action Fund, Build Change, FM Global, and Miyamoto International. This event will commence on May 11, 2021 – 9 AM (Philippine Standard Time)
Click Here to register!