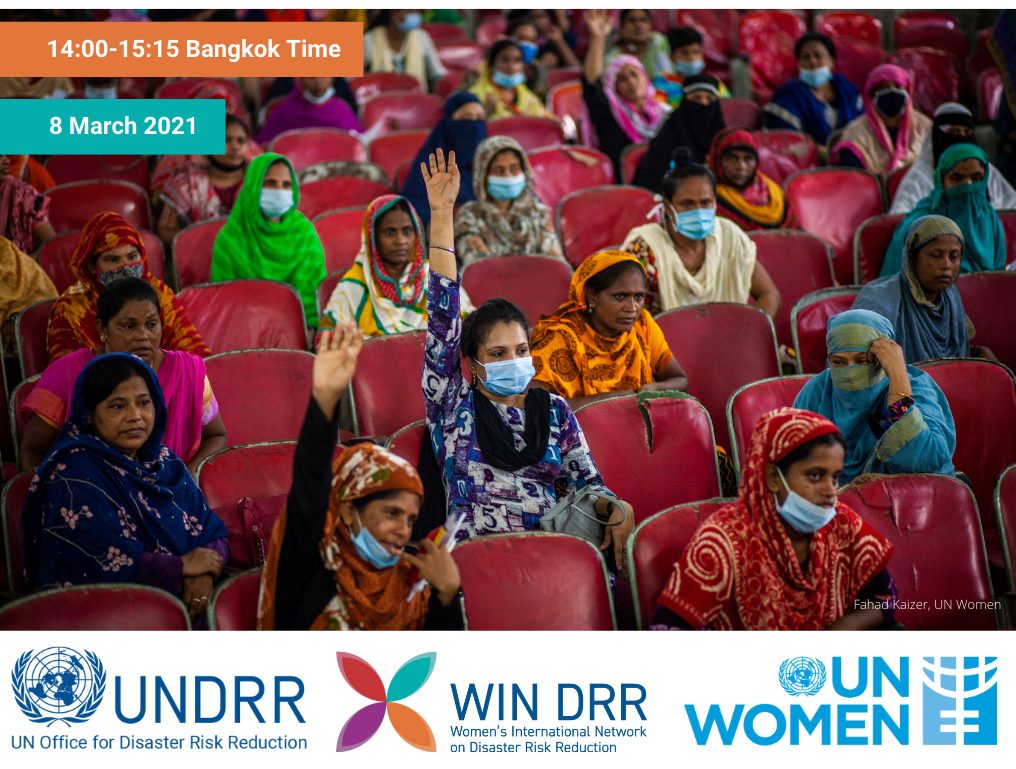 We are inviting everyone to attend the 'Women in leadership – achieving an equal future in a COVID-19 world' webinar, co-hosted by UNDRR-UN Women.  This 75-minute event will be held on International Women's Day – Monday, March 8, 2021, at 15:00 (Philippine Standard Time).
The Special Representative of the Secretary-General for Disaster Risk Reduction, Ms. Mami Mizutori, will make the keynote address at this International Women's Day event. She will be joined by inspiring women leaders and male champions working in the Asia Pacific region. As part of the event, UN Women and the Humanitarian Advisory Group will also launch a new Framework that has been developed to track the progress and impact of women's leadership in COVID-19 responses in Asia and the Pacific.
The event is being held under the auspices of the Women's International Network on Disaster Risk Reduction (WIN DRR), UNDRR's new network to promote and support women's leadership in DRR. To learn more about WIN DRR, click the link to their LinkedIn and Twitter.
The objectives of the event are:
Highlight the importance of women's leadership in COVID-19 recovery and the benefits of strengthening the participation and leadership of women, in all their diversity, in building resilience and reducing future disaster risk.
Recognize and celebrate a broad range of women leaders from across the Asia Pacific region who have played an essential role in the response to the COVID-19 pandemic
Hear from women leaders about their work, the challenges they face in their roles, and the change that is needed to better support women's leadership
If you are interested, register here:
https://undrr.zoom.us/webinar/register/WN_EShSH-5DQsmxSzoEOVEpIw
Event details:
https://www.undrr.org/event/international-womens-day-women-leadership-achieving-equal-future-covid-19-world