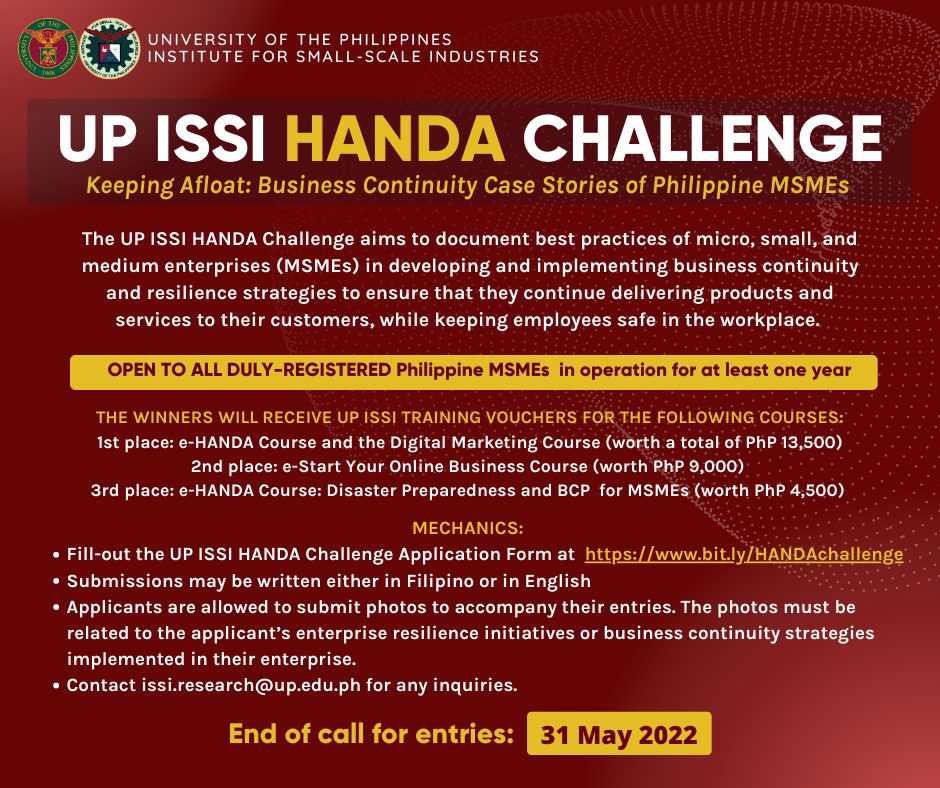 With the theme, Keeping Afloat: Business Continuity Case Stories of Philippine MSMEs, the UP ISSI HANDA Challenge aims to document best practices of Philippine micro, small and medium enterprises (MSMEs) in developing and implementing business continuity and resilience strategies to ensure that they continue delivering products and services to their customers, while keeping employees safe in the workplace.
This is open to all duly-registered Philippine MSMEs in operation for at least one year. Interested participants are requested to accomplish the online application form at https://www.bit.ly/HANDAchallenge.
Applicants may submit photos to issi.research@up.edu.ph to accompany their entries. The photos must be related to the applicant's enterprise resilience initiatives or business continuity strategies.
The winners will receive UP ISSI training vouchers for the following courses:
1st Place: e-HANDA Course and the Digital Marketing Course (worth a total of PhP13,500)
2nd Place: e-Start Your Online Business Course (worth PhP9,000)
3rd Place: e-HANDA Course: Disaster Preparedness and Business Continuity
Planning for MSMEs (worth PhP4,500)
The call for entries ends on 31 May 2022.
Let us support this program by encouraging our MSME networks to step-up and share their experiences and creative strategies on overcoming the challenges brought about by the pandemic as they glide their way towards surviving their businesses and continuing their service to the clients and the general public.