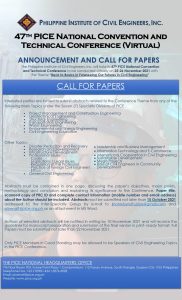 The PICE National Board of Directors thru the Conventions Committee will be hosting the 47th PICE National Convention and Technical Conference (Virtual) slated on 25-26 November 2021 with the Theme: "Back to Basics in Foreseeing Our Futures in Civil Engineering"
This will be offered for FREE to all PICE Members.
Calling our academicians, researchers, innovators, all civil engineers who wished to participate by being one of the presenters in our technical conference, Please see below the CALL FOR PAPERS for more details!
More details on this big event shall be released soon!